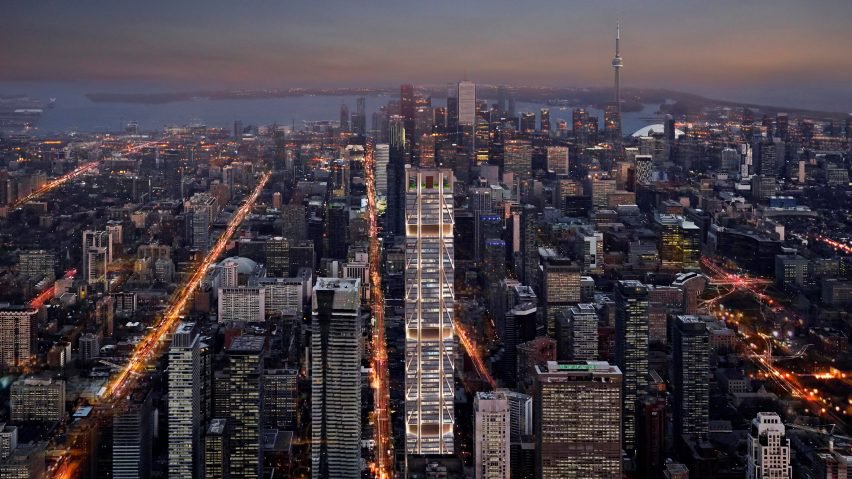 "The One" – Canada's newest and tallest project
Canada will be adding a new 85 story, 860,300 square-foot addition to the Toronto skyline. "The One" as Mizrahi calls it, was designed by Foster + Partners in 2015 and has recently broken ground. This 1,004 tall building will be the largest in Canada when construction is finished.
In the past decade, Toronto has gone through a complete transformation through unexpected growth and development in the central business district and outlying areas. Giles Robinson, Senior Partner for Foster + Partners said "The One is the final piece of the jigsaw in the tower cluster at the Yonge and Bloor node – one of the most prominent intersections in the city."
"The One" is said to act as a sort of link between downtown Toronto and the Yorkville district since it's sited at the high-profile intersection of Yonge and Bloor streets.
"The project creates a new anchor for high-end retail along Bloor Street West, while respecting the urban scale of Yonge Street. The design is respectful of the legacy of the William Luke Buildings, and incorporates the historic 19th century brick structures within the larger development," says Robinson.
"The One" will have several different levels of retail and restaurant space and a 175-key hotel with approximately 420 luxury condominium residences on top. The construction of "The One" is scheduled to reach completion around 2022.
Foster + Partners other "sky-high" projects
"The One" is not the only project that Foster + Partners has designed that's grabbing attention in the media. The firm also designed MOL Campus in Budapest, Hungary. The MOL Campus is a 893,000 square-foot, 400 foot tall oil and gas company. These new global headquarters in Budapest will also be the tallest building in the city. Seems like Foster + Partners is making a habit or setting records. Foster + Partners is also building a new structure in Warsaw, Poland reaching a staggering 1,018 feet tall. "The Verso Tower" will be the tallest office building in Central and Eastern Europe.
Tall buildings exceeding more than 200 meters (656 feet) are increasing everywhere around the world. In 2016 alone a total of 128 of these monsters popped up, making a new annual record. Now there are more than 1,100 buildings reaching over 600 feet. That's a 441% increase from the year 2000. 18 of those finished buildings were the tallest in their city, country, or region.
Download your 14 Day FREE Trial of PlanSwift today!