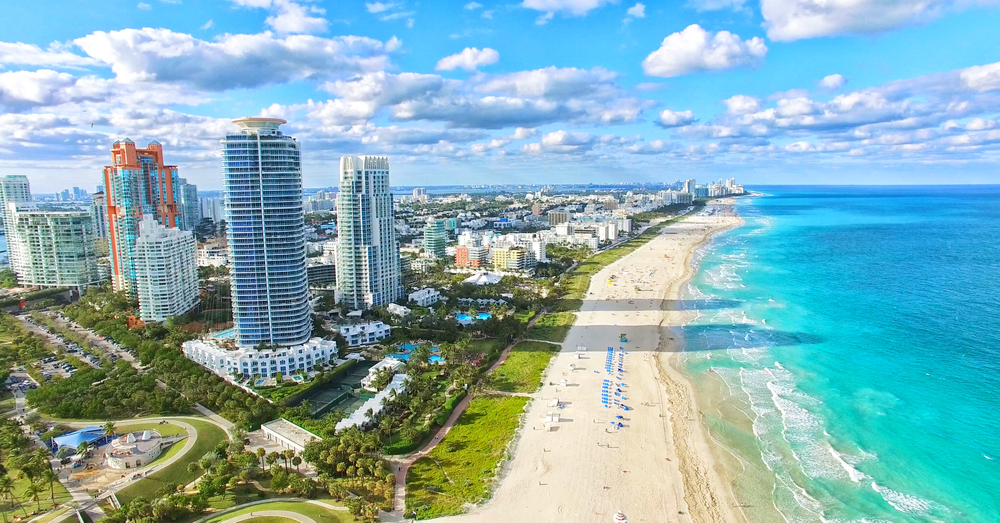 SkyRise Miami will be a 1,000 foot tall entertainment and observational tower with many exciting attractions that will draw more than three million visitors a year. Some of the major attractions include things like the Skyplunge and Skydrop.
Construction for SkyRise Miami is scheduled to start in Spring of next year and is expected to be finished in 2023. This enormous theme park building will overlook Biscayne Bay in the heart of Miami.
Attractions:
The Skyplunge – this will feature a base jump where the tourists are attached to a high-speed descent wire and plummet at nearly 55 miles per hour to the ground.
The Skydrop – riders are slowly raised over 600 feet and then free-fall 540 feet at speeds up to 95 miles per hour.
SkyRise Flying Theater – Up to 70 riders are secured in seats that when the floor drops out, are suspended 40 feet in the air. Then a 4D simulator moves the seats in sync with a movie projection, supplemented by real special effects like wind and aromas.
Skyway – Which will be the world's tallest rotating observation attraction.
Skyfly – a zero gravity tunnel that lets visitors float their way to the top of the tower.
Skywalk – which is exactly what is sounds like, where you can walk out onto an open deck with no handrails 908 feet above the ground.
Skyglide – this transparent slide lets visitors glide down the outside of the building for a panoramic view of Miami.
Skyledge – A transparent skydeck cantilevers off the structure's outside wall over 800 feet above the ground.
Boat cruises
Virtual reality experiences
Catering halls, restaurants, nightclubs, and so much more.
SkyRise Miami was designed by Coconut Grove based group, Berkowitz Development Group. They're confident in their abilities to provide a unique and revolutionary new kind of building and with their impressive portfolio it's easy to see why. They're portfolio includes more than 1.5 million sf of office and retail building development.
Originally Jeff Berkowitz, chairman and founder of Berkowitz Development Group, claimed that he could complete the tower without taxpayer money, but subsequently applied for $15 million in economic development funding. This delayed the project, which was pitched back in 2014, but it 2015 Florida Supreme court ruled in the developer's favor.
Download your 14 Day Trial of PlanSwift Today!