Beijing Wowjoint Machinery Co in China has created a colossal machine called the SLJ900/32 or the Segmental Bridge Launching Machine. This 580-ton 300 foot long machine is building bridges across the Chinese countryside.
This machine can build bridges, not just in the city, but through the wilderness too. In the picture below, "The Iron Monster" is seen building a bridge in the forest between the two cities of Chengdu and Guizhou.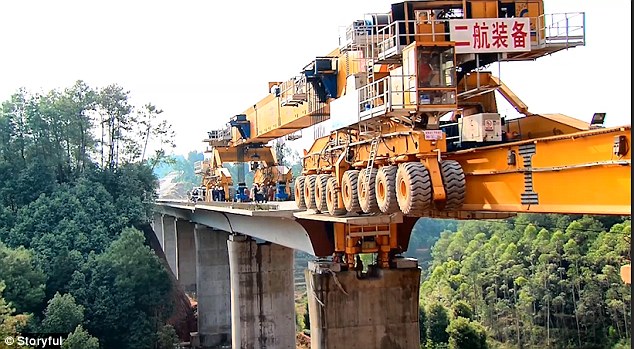 How does it work?
"The Iron Monster's" building process is incredibly simple. The machine starts by picking up a new pre-cast sections of concrete from the casting yard and driving it to the bridge site where the pillars that will hold the concrete are already standing. It lowers the support structure which stabilizes the machine as it extends out to the first pillar.
The machine slowly drives further forward, carrying the beam along with it, then lowers it into place between the starting point and the first column. Once the beam is secured, the machine backs up, taking the two portable support structures with it. After retrieving another beam it will drive across the first installed segment and the process is repeated until finished.
The SLJ900/32 has 64 wheels supporting it split up between four sections of 16 wheels each. Each of the sections can rotate up to 90 degrees that let's the machine drive sideways for efficiency when picking up beams.  
These kinds of machines have more or less become common throughout China over the past few decades according to Bridge Design & Engineering reports. At first each machine has to be specially designed for each project but in recent years engineers have found ways to make the machines more reusable.
"Launching machines are always customised to suit the specific bridge design, construction conditions, structural dimensions of beams and so on," Yabin Liu and Fuchun Yuan said "Even if a bridge project needs multiple launching machines, the supplier may design different erection solutions and the launching machines may vary in structure, operation and controls."
Now that there's been technological and design advances for this machine a majority of them can be dissembled and re-customized for multiple different projects. Each of these incredible machines are capable of building 730 spans in its operating lifetime.
Download a 14 Day Trial of PlanSwift for FREE