America's latest boomtown Austin, Texas is preparing to add it's soon to be tallest building to the skyline. At 685 feet, "The Independent" will have 370 condos ranging in price from $400,000 to $3.4 million and ranging in size from 675 square feet to 3,485 square feet.The tower will also include a plaza connecting it to a foot bridge on Third Street. Third street and West Avenue, never looked so good!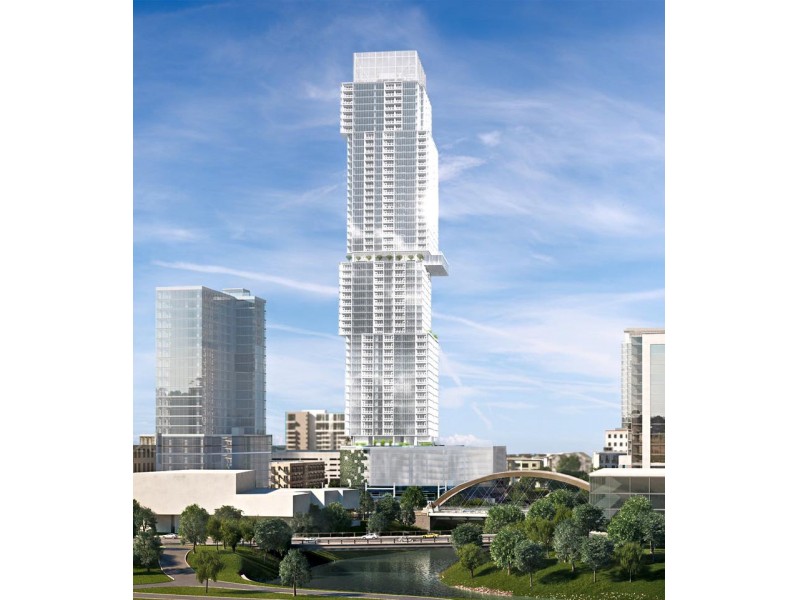 The estimated $300 million project was announced in late 2015 and has already broken ground on its 58 stories! "The Independent" will reshape Austin's skyline when it opens in around three years. With its unique and very distinctive stacked design it has earned its nickname "Jenga Tower."
The development team building the tower consists of Constructive Ventures and Aspen Heights both based in Austin, as well as Los-Angeles based CIM Group. Kirk Watson, a former Austin mayor and now state senator and current Mayor Steve Adler lauded the project. Their belief is that the high-rise building downtown will make a significant contribution to the city's tax base!
Perry Lorenz of Constructive Ventures Inc asked "All of this focus on downtown, all this money being spent downtown, what good does it do us in the suburbs?"
Adler was quoted saying "downtown is not only the city's living room, it is our city's piggy bank." He also said that The Independent will make the largest contribution to its city's affordable housing fund at a total of $2.5 million. The developers are also making as much as $1 million as a contribution to the city's infrastructure, along with other benefits for the community like helping the city bolster its property tax base which could result in economic benefits rippling into surrounding neighborhoods!
In short "The answer is, it pays for your roads, and it pays for your infrastructure," Lorenz said alluding substantial property taxes the city would derive from the property that could also benefit outlying communities outside of Austin.
The tower will offer a panoramic view along with a variety of other amenities like:
A Theater

Club Room

Business Center

Dog owners' lounge

and a pool overlooking the city
To see a live animation of what life would be like at The Independent click here:
Download your 14 Day trial of PlanSwift absolutely FREE