A power plant said to produce low cost electricity emissions free has broken ground in La Porte, Texas. This "first-of-a-kind" power plant will sit on a 50-megawatt demonstration plant. This project is the collaborative effort of Exelon Generation, CB&I, and 8 Rivers Capital.
The new plant will demonstrate Net Power's Allam Cycle technology that uses carbon dioxide as a working fluid to drive the combustion turbine. This effectively eliminates all atmospheric emissions without having expensive carbon capturing equipment. This technology also produces pipeline-quality CO2 that can be used in various industrial processes like enhanced oil recovery.
Carbon capture and storage technology can bury up to 90% of the power plants emissions.
This $140 million program not only includes a demonstration of plant design and construction but it also comes with technology advancement with a full testing and operations program.
Toshiba developed and manufactured a new supercritical CO2 turbine and combustor for the project. CB&I will perform the engineering, procurement, and construction section of the plant project. Along with Toshiba and CB&I's contributions, Exelon will provide operations, maintenance, and development services for the plant. 8 Rivers continues with their advancement of the technology behind it all.
How does it work?
The Net Power the plant would use only produces electricity, liquid water, and pipeline-ready CO2. For a small reduction in efficiency, this technology can operate without water and becomes a net water producer.
It uses CO2 in place of steam as the working fluid that drives the turbine. The power plant will use an oxy-combustion system that makes it burn the fuel with pure oxygen instead of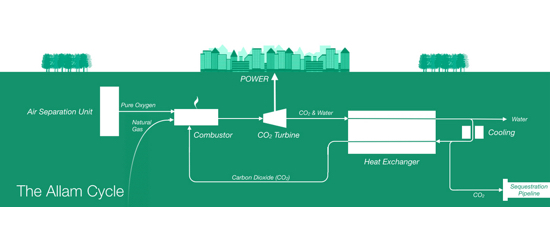 using air. This process produces combustion products of CO2 and water while at the same time eliminating NOx and other impurities. The system will then remove all the water from the working fluid.
Dimming said, "Because most of what we put into our combustor is hot, recycled CO2, we are4 able to lower our oxygen needs, and therefore lower its overall cost impact on our system."
What makes this idea so revolutionary is its ability to recycle the majority of the CO2 working fluid back into the front of the combustor, rather than using hot CO2 to boil water and drive the steam turbine like the technology used by other power plants.
Lux Research analyst Daniel Choi was quoted saying "the majority advantage of Net Power's technology is that the emissions-free aspect. However, because Net Power has a bottom-up approach to cleaner power generation – whereas CCU / CSS is fitted to traditionally design plants – it is a promising long-term solution for new projects."
When will it open?
Net Power expects commissioning to begin late in 2016 and estimate it will be completed sometime the following year in 2017.
The company building the zero-emissions plant in Texas said, "Every piece of equipment except for the turbine is already in operation today, we've done thousands of thermodynamic models, and others have done the same. We've even tested the novel combustor that the turbine needs. Everything indicates this works the way we believe it does. And now we're building the demo to confirm it. I guess you could say the only downside is that it doesn't exist yet and we're having to go prove it. We have a great deal of commercial interest, but since it's a brand new technology, everyone wants to see if it will work."
Learn how PlanSwift can streamline takeoff and estimating for your business
Download your FREE 14 Day Trial of PlanSwift today!