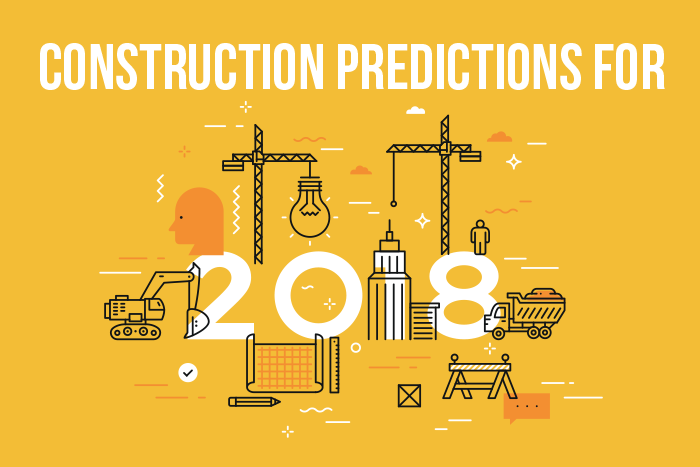 2018 is going to be an exciting year for the construction industry. All signs and numbers point to a successful year! Last month alone over 30,000 jobs were added to the industry according to the Bureau of Labor Statistics. This will bring the sector's 2017 gains to 210,000 positions. That's a 35% increase over the previous year! Construction spending was even up to a record $1.257 trillion back in November according to the Commerce Department. Spending increased in all sectors of real estate, commercial and residential, and private construction projects.
"This optimism is likely based on current economic conditions, and increasingly business friendly regulatory environment and expectations the Trump administration will boost infrastructure investments," says Stephen Sandherr, CEO at the Associated General Contractors of America.
Construction firms are adding jobs but workers are leaving the industry as well, retiring. 190,000 new workers entered the construction industry in 2017 which is considerably lower than the 3 years prior with 284,000 annual additions.
What can we expect in 2018?
Single family housing will rise 9% in dollars, corresponding to a 7% increase in units to 850,000 (Dodge basis)
A boost in construction needs to come from the rebuilding efforts in Texas and Florida after hurricanes Harvey and Irma.
Multifamily housing will retreat 8% in dollars and 11% in units to 425,000 (Dodge basis)
Commercial building will increase 2% following a 3% gain in 2017 and continuing to decelerate after the sharp 21% hike in 2016.
Institutional building will advance 3% continuing its upward track after this year's 14% jump.
Public works construction will improve 3% barely more than the 1% growth in 2017.
Quote by Robert Murray, chief economist of Dodge Data & Analytics.
"The U.S. construction industry has moved into a mature stage of expansion. After rising 11% to 13% per year from 2012 through 2015, total construction starts advanced a more subdued 5% in 2016. An important question entering 2017 was whether the construction industry had the potential for further expansion. Several project types, including multifamily housing and hotels, have pulled back from their 2016 levels, but the current year has seen continued growth by single family housing, office buildings, and warehouses. In addition, the institutional segment of nonresidential building has been quite strong, led especially by transportation terminal projects in combinations with gains for schools and healthcare facilities. As for public works, the specifics of a $1 trillion infrastructure program by the Trump Administration have yet to materialize, so activity continues to hover around basically the plateau for construction starts reached a couple of years ago. Total construction starts in 2017 are estimated to climb 4% to $746 billion."
Murray continued saying "for 2018, there are several positive factors which suggest that the construction expansion has further room to proceed. The U.S. economy next year is anticipated to see moderate job growth. Long term interest rates may see some upward movement but not substantially. While market fundamentals for commercial real estate won't be quite as strong as this year, funding support for construction will continue to come from state and local bond measures. Two areas of uncertainty relate to whether tax reform and a federal infrastructure program get passed, with their potential to lift investment. Overall, the year 2018 is likely to show some construction project types register gains while other project types settle back, with the end result being a 3% increase for total construction starts. By major sector, gains are predicted for residential building, up 4%; and nonresidential building, up 2%; while nonbuilding construction stabilizes after two years of decline."
Download your FREE 14 Day Trial Today!