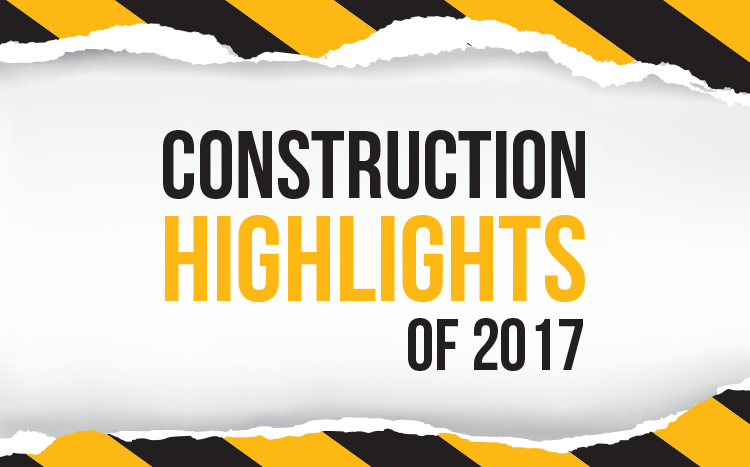 All the data for the construction industry is in, so it's about time to do our analysis so we can see how 2017 went and try to predict how 2018 will be.
Construction Spending
Construction spending releases a report each month from the U.S. Commerce Department after they examine the private and public sectors. In the private sector, the report tracks single family residential, multifamily, residential and noneresidential.
The AIA's Consensus Construction Forecast Panel shows construction spending on nonresidential building increasing 3.8%, Commercial construction increasing 8.8%, and Industrial Construction decreasing 6.6%. Construction spending in the first 9 months of the year was $917.0 billion, that's a 4.3% increase over the same period in 2016.
Investments are expected to increase through 2018 along with oil prices but spending levels will ultimately remain far below the historic high of 2012 and 2013.
Highlight for 2017: Construction spending reached an all time high in November 2017.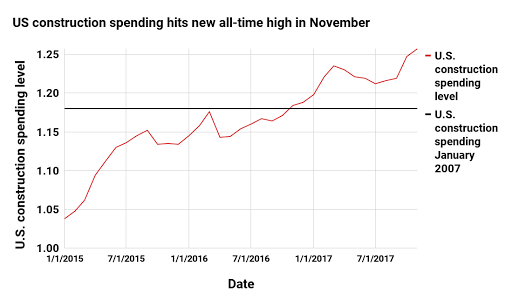 Construction Employment
Construction companies have been facing major challenges with the labor shortage in recent years. The Bureau of Labor Statistics releases a report of job gains and losses in the industry each month. The report is then divided into residential and nonresidential sectors.
"Construction labor looks to be a stubborn problem to resolve," Kermit Baker, economist for AIA, said. Labor shortages are expected to follow us into 2018 and the following years to come.
"Construction employment is still more than 10% below it's previous peak," according to ken Simonson, another AIA economist. "70% of firms said they were having trouble filling hourly craft positions.
Highlight of 2017: 30,000 jobs added to the industry in December 2017
Architecture Billings Index
The American Institute of Architects releases The ABI that serves as an indicator of future construction spending. The ABI has a lead time of about 9-12 months. Any mark above 50 on the ABI indicates an increase in billings.
Highlights of 2017: Architecture billings ends with best quarter of the year.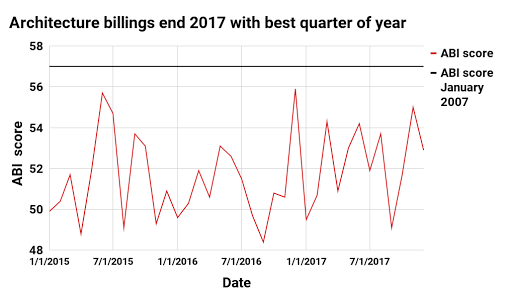 Download your 14 Day FREE Trial of PlanSwift Today!