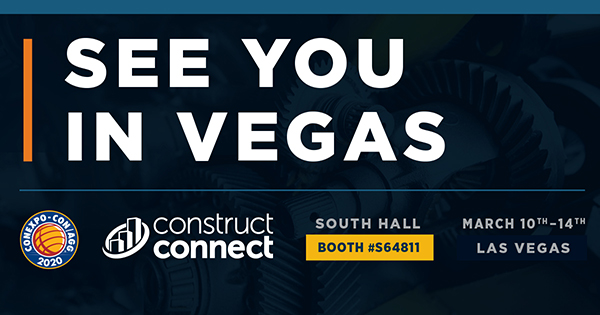 Great news! PlanSwift is heading back to the CONEXPO 2020 Show in Las Vegas, March 10-14.
If you're looking for our easy-to-use digital takeoff tools, you can find us this year in booth S64811 under the ConstructConnect sign. Not only will we be demonstrating our highly customizable tools, we'll also be showcasing more than 10 preconstruction brands from ConstructConnect's award-winning portfolio.
Make plans to stop by now. You don't want to miss our live demonstrations, awesome giveaways, and show discounts.
Show dates: March 10-14, 2020
Hours: 9:00 a.m. – 5:00 p.m.
Booth location: #S64811 in the South Hall
Score a YETI Rambler
With more than 2,800 exhibitors on the huge 2.5-million-square-foot site, CONEXPO can seem overwhelming as you try to take in all the cool technology.
Why not take the pressure off and make sure you snag some cool swag? This year, attendees can set a time window to let us know when they'll be stopping by our booth. Not only will our product pros be available to help you make the most of your time, you'll also skip the line for our awesome YETI Rambler giveaway. (Think of it as a Disney FastPass without the cranky toddlers.)
Go ahead and preset your appointment now.
Hurry, you don't want to miss getting an up-close look at the first end-to-end preconstruction solution. This is a great chance to see how we can simplify both your takeoff and how you find, bid, and win the right projects for your construction business.