Thank You!
Your 14-Day free trial of the SwiftMaps has started. Please follow the instructions below to install it.
Step 1: Your Plugin will begin downloading automatically. If not, click the 'Download' button below.
Step 2: Save the Plugin if asked.
Step 3: Double click the newly download plugin and follow the instructions.
Step 4: Enjoy.
To re-download this and your other plugins:
Navigate to myaccount.planswift.com
Login with your email address and password
Click the "Licenses" tab
Click the "PlanSwift Plugins" Tab
Click the cog wheel next to whatever plugin you want
Click download
Install (double click the download)
Enjoy
Summary
Price: $299.99
Capture images from Google Maps with a single click! ***Newly released and updated version 2.0!***
Call the PlanSwift team at 888.752.6794 Option 1 and start your trial today!
Screenshots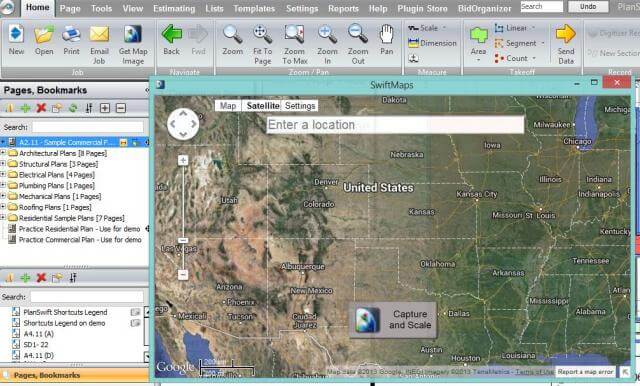 Description
SwiftMaps has been updated and released to now work again with Google Maps. In August 2018 Google changed its API for Google Maps and it broke our SwiftMaps 1.0. We are pleased to announce that we have released version 2.0 and it has some additional features now. Users can save markers and better track previous searches. Get a free trial today! ***SwiftMaps is currently able to automatically scale the page with Imperial measurements only. Metric is NOT yet an option, however, a Metric auto-scale will be released in a future update.