PlanSwift® Release – Version 10.2
Excel Integration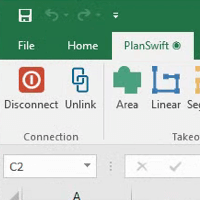 We are super excited about our new Excel Integration. In this version we have completely rebuilt our Excel tools. What does that mean for you? PlanSwift now integrates with the latest versions of Excel (in other words it now works with .xlsx and .xltx file extensions). There is also a new tab in Excel just for PlanSwift. You can use this, or the right click menu to connect and drive PlanSwift. A revolutionary new feature adds the ability for you to export templates FROM Excel to PlanSwift (you will be exporting PlanSwift Templates from inside Excel ). This means that Excel Templates may be saved and exported to different jobs in PlanSwift. This export creates the Takeoff Summary items automatically from your Excel sheet, saving considerable time when jobs are similar or the same.
For more information and to learn how to use this new integration click here.
Visual Enhancements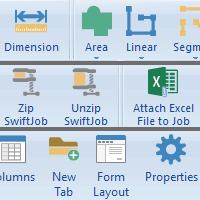 While we were working on the above additions and bug fixes for PlanSwift, we decided that the look and feel of it needed an update too. In this version we have started that look and feel update. When you open PlanSwift after updating you will notice that the icons / buttons on the top bars have been updated (the location and functionality of the icons / buttons remains the same). Over the next few versions we will be updating all of the graphical icons / buttons. We hope that you like the new icons as much as we do. We tried very hard to design them in a way that better describes the function they initiate.
Parts and Assemblies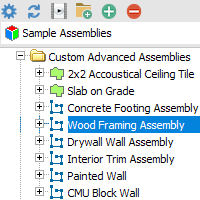 We have added a few new Custom Advanced Assembly examples (They are: 2x2 Acoustical Ceiling Tile, Slab on Grade, Concrete Footing, Wood Framing, Drywall Wall, Interior Trim, Painted Wall, CMU Block Wall) and dozens of new Templates that are labeled for CSI 2012. Note: If you use the update option inside PlanSwift you will not see these. We will make these new assemblies available via download in the near future (we will provide a link on the Release Notes page and possibly an email at that time).
Bug Fixes / Performance Enhancements
As with every release of PlanSwift we strive to make performance enhancements and bug fixes a priority. Normally on a page like this, we would list what we think are the most important fixes and enhancements, this time we are doing something different. From now on we will place our Release Notes in our Product Knowledge Base and make them public.
New Starter Pack Plugins
Along with the release of version 10.2 we have released three new Starter Pack Plugins. These starter packs have proved to be very popular with our test group.