PlanSwift is proud to announce our new Classroom Training! You'll spend 15 hours in our Utah headquarters being trained by our highly skilled technicians and trainers! By the time you leave our wonderful city you'll have a Level 1 Certification of th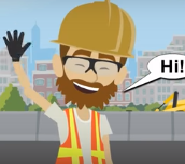 e program, that's a value of $299 in training! You will learn valuable skills you need to know to use PlanSwift to it's fullest advantage.
"The training was excellent and I would recommend it for anyone who uses PlanSwift."
Just one of our many positive reviews on our first few classes!
Why should I choose PlanSwift Classroom Training?
PlanSwift is easily the fastest and easiest takeoff and estimating software to learn in the construction industry. Classroom training offers customers two entire days filled with detailed trainings, one on one time with trainers, and a Level 1 certification in PlanSwift software. The trainers don't just train customers in the software but will also train you in various plugins. Plugins help assist in customizing your PlanSwift software to work more efficiently for your specific trade/business.
Learn about all of PlanSwift's Fundamental Building Blocks.

Concour both basic and advanced features in Planswift, this includes the powerful parts and assemblies.

Gain valuable takeoff tips and tricks.

Learn how to create and use custom templates.

PlanSwift provides lunch on both days of the class where you'll eat with PlanSwift employees at our headquarters.

A couple weeks after the course you will receive a FREE 1-on-1 follow up with one of our many skilled trainers.
Training Schedule
Day 1 Schedule:
(8:00 a.m. – 11:30 a.m.) Welcome & Introduction, Morning Sessions
(11:30 a.m. – 12:20 p.m.) Lunch
(12:20 p.m. – 4:30 p.m.) Afternoon Sessions
(7:00 p.m.) Dinner at Rodizio's in Trolley Square, SLC.
Day 2 Schedule:
(8:00 a.m. – 11:30 a.m.) Morning Session
(11:30 a.m. – 12:20 p.m.) Lunch
(12:20 p.m. – 4:30 p.m.) Afternoon Session
(4:30 p.m. – ∞) 1 on 1 sessions with PlanSwift trainers

Testimonials
:
PlanSwift has received very positive feedback from our customers who attended the class. To see the reviews or get more information on the training visit our website HERE
Call or email today to reserve your spot before they're all gone! Learn the ins and outs of your takeoff software in a professional setting customized to your specific needs.
To talk with one of our representatives either:
Email us at: training@planswift.com  or
Call us at: 888-752-6794 Ext. 2
Download your 14 Day Trial of PlanSwift absolutely FREE